Austria, Part 1
Today we left our apartment at around 10 and drove through some beautiful parts of Bavaria. At on point we heard many bells and pulled the car over to see what it was. We looked to see a small alpen village nestled between some mountains. There was a castle on a hill and just off the road in front of us were some cows with bells. It was so peaceful to hear the cows in the valley.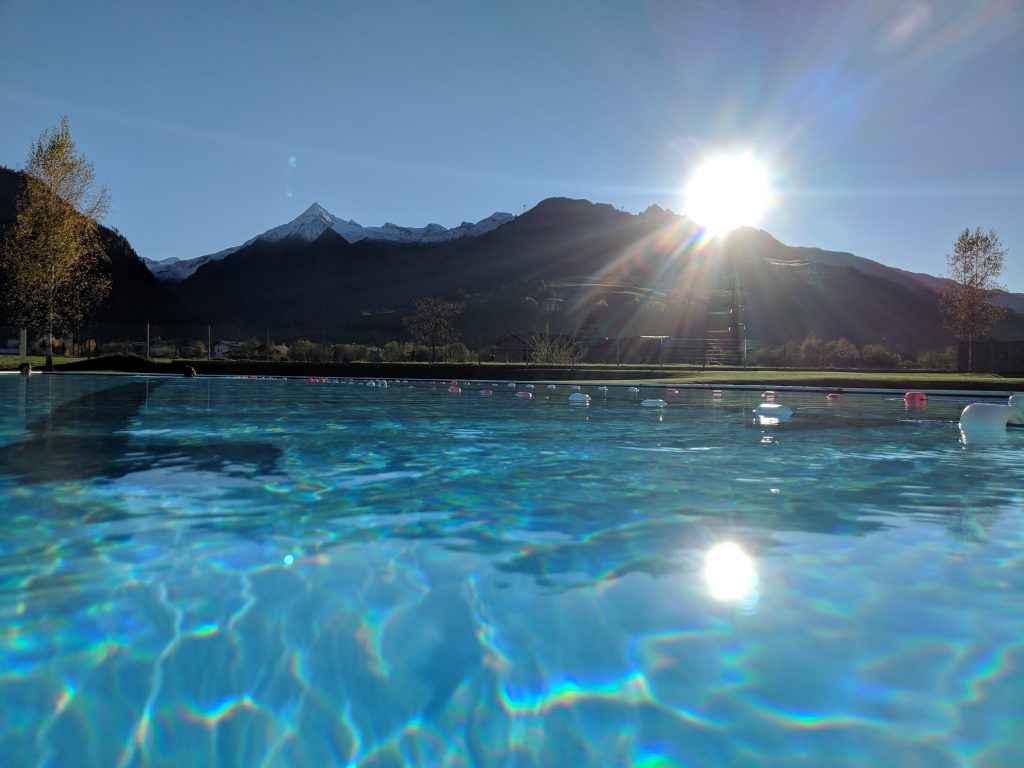 We continued on to our final destination the Hot Springs! We arrived and debated whether to do the three-hour ticket or the day pass. We decided to do the day pass. We went in and got ready to swim. We walked into the pool area expecting one small pool but what we saw were 7+ large pools! There were water slides, lazy rivers, hot pools, cold pools, and even a salt pool! We were in the water immediately and I soon discovered what we thought was a decorative pillar holding the second story pool up was actually a  small "grotto pool". There were lights, bubble jets and the roof even dumped water on me once. I also learned that you can float on your chest and almost skydive on a large bubble jet! We did the water slide a few time most of which I got stuck on. It was not a fast slide! We kept swimming and before long we found bubble chairs. These were PVC chairs that had small holes drilled in them that occasionally pumped air into the pipes and out the holes creating a bubble massage. Soon we looked at a clock and it was 6:30! We had been in the pools for 6 1/2 hours. We left for dinner and with very wrinkled fingers.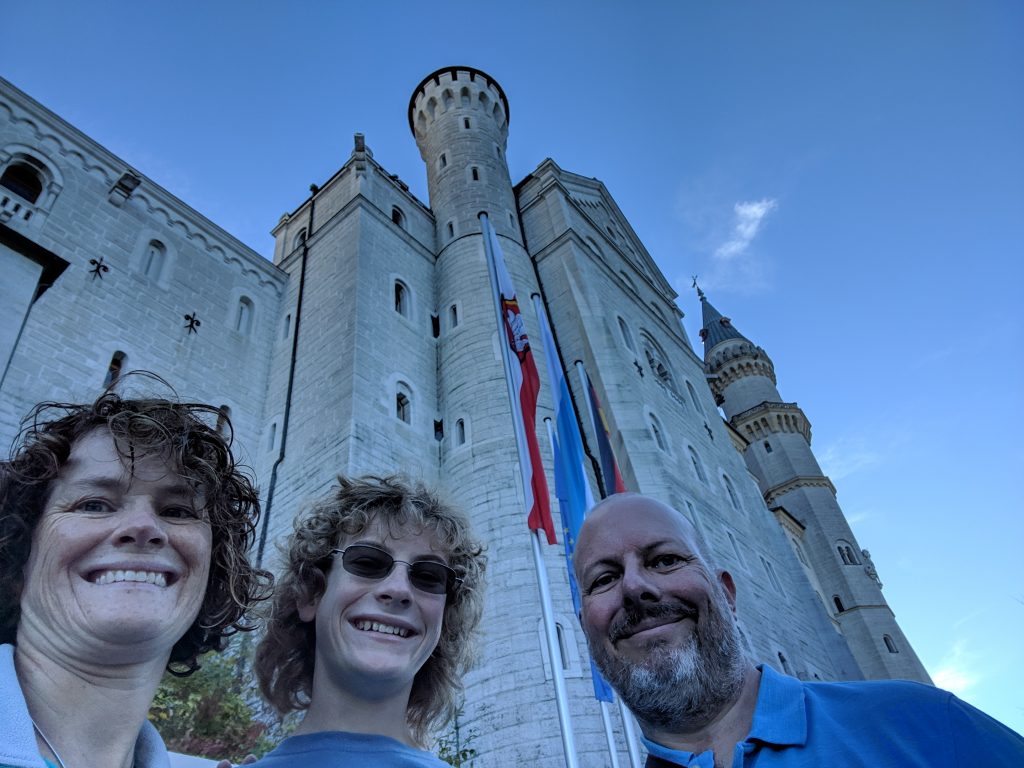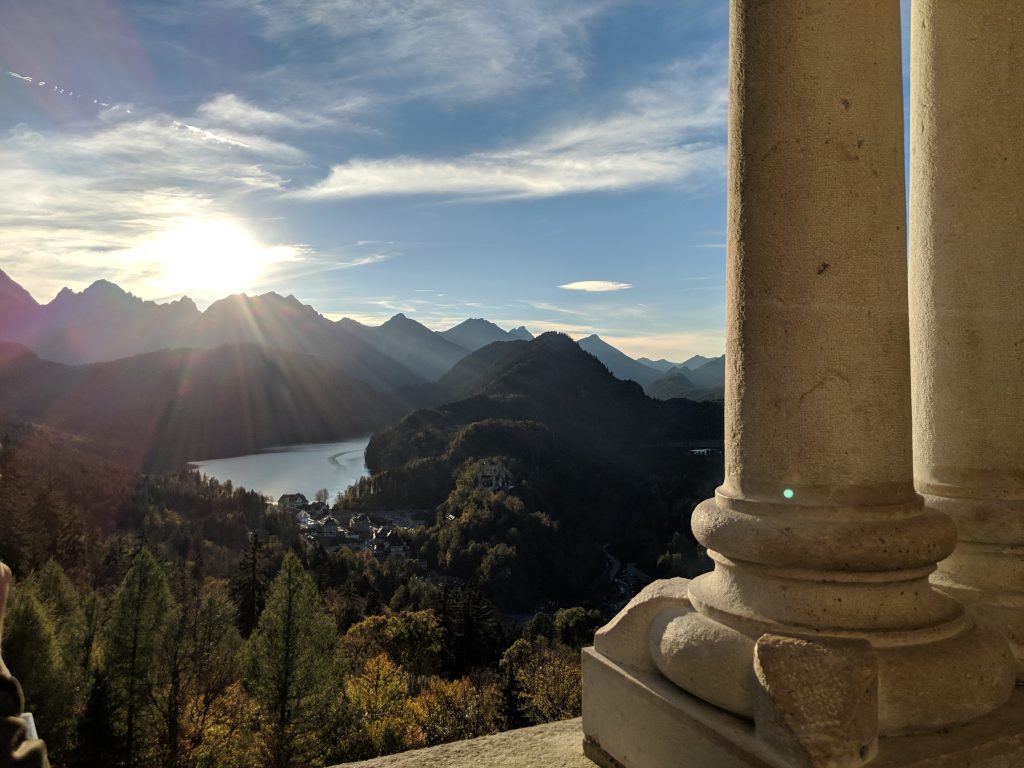 Happy birthday, Dad! We got up early and started driving. We drove about three hours and as we came around the bend we saw our final destination. Neuschwanstein. We went to the ticket office to see if we could still go on the tour. We could! We walked up the hill fast so we could make it in time. For most of the walk, we could see the gorgeous castle looming over us. We made it to the top with time to spare bought a pretzel and went into the castle. Anyone can go to the courtyard but you have to do the tour to go inside. The castle looks miles tall but the main part is only three floors. Ludwig (The guy who wanted this thing.) built it to use illusions to make it look taller. We saw his bedroom, the throne room, the kitchen, his dressing room, his office, and even his telephone which he could only call the post office because no one else had them. The main, big red gate and concert hall are being renovated but we still got to see them. After the tour, we went back down after being asked for directions by a Chinese family. For dinner, we went to a very good Japanese restaurant. We had sushi, rice, and duck. It was really tasty. We went to our hotel and went to bed.
Today we went to Lermoos! My mom went there as a child and though we don't know which house it was she stayed in, we are pretty sure we saw it as we saw every house in town. It is a gorgeous little town and almost every house is built in the little Alps house style with A-frame roof and a balcony. As we were driving back we saw SNOW on the border with Lichenstein and Switzerland but soon after it stopped snowing. But then it started again! But then it stopped. But we had a great day and saw our first snow of the year!