Weekend in Corfu
This weekend we went to Corfu, Greece. We have wanted to go for a while now and we decided that as we are leaving the area soon we should go now. We mainly wanted to play on the beaches. We waited a few weeks to find the best weather and finally found sometime about 2 days long that the weather was going to be good. We got tickets to go over on the Flying Dolphin hydrofoil. A hydrofoil is a boat that lifts up out of the water onto small winglike pieces that are still in the water so that it can go much faster. We arrived in Corfu and got our car. We also checked into our small house for the next few days. After about 30 minutes of driving, we arrived at "Kizer's Throne" which is a viewing area where you can see most of Corfu. We decided to go to the beach for the sunset as it was 3 pm so we could have a few hours to play first.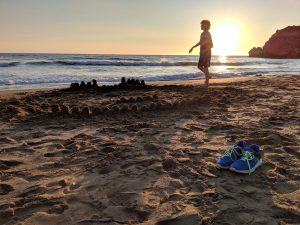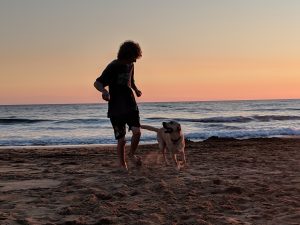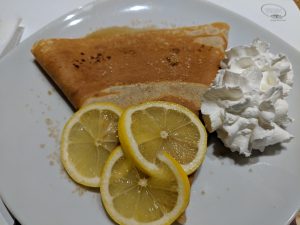 I made a small track to run around and made small pillars of sand that I knocked over every lap so I could know how many laps I had done. I also played in the water as the beach was super sandy and nice. The water, while not being hot, was warm enough that you could get used to it if you were in long enough. The sunset was fantastic. There were yellows reds and oranges all lighting up the sky and reflecting off the sea. As the sunset was finishing up, We decided to go get dinner. We went back to Corfu Town and went to an amazing burger bar that we had eaten at the last time we were in Corfu about 2 months ago. The food is almost as good as some of the better burgers at home so it was very nice to have some more American food. We got home pretty late and went to bed.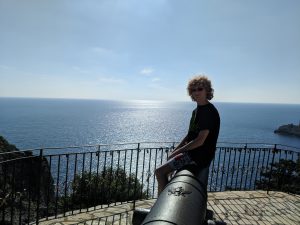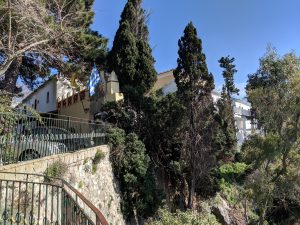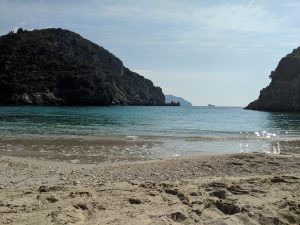 The next morning we woke up ready to go! After stopping at a small market to get some apples and pastries. We drove to a beach with an old monastery on the cliff next to it. Mom had a small headache so we let her rest while dad and I walked up to the monastery. There is a very old cannon sitting at the top overlooking some sharp rocks and then the sea. We talked to a priest that spoke about 8 different languages and none of them amazingly, though he was quite good at Spanish oddly. Then as the water had started to warm up we wandered back to the car and woke mom up. We walked over to the beach and Dad and I wandered/waded over to a small grotto that even had an old boat in it. At one point I looked down and saw a cluster of shells on a rock. We picked a few up and found that they were hermit crabs! We went back to where mom was and showed her out hermit crab friend. I started building a sand castle and dad helped me by building a sea wall of small rocks to help protect it for longer from the rising tide. After the castle was done mom said "now Vesuvius it!" This led to the formation of the song "Vesuvius is the Grooviest" Which led to the formation of Pyroclastic Flow The Broadway Musical. Erupting into a theatre near you soon. We decided to go to the north tip of the island to watch the sunset. We settled on a place called Logas beach. This beach has sedimentary cliffs that are a little less than stable.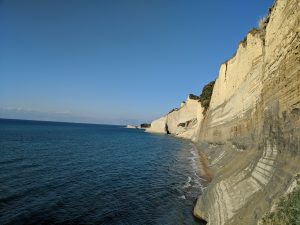 For example, the restaurant at the top of the cliff has a small viewing platform. I believed that it had a glass bottom you could look through and that was why it was hanging off the edge of the cliff. However, it is actually just a regular viewing platform that the cliff has worn out under and it is now hanging off the edge of the cliff. Let's just say the rest of the restaurant is not far behind. Mom and I went to explore a small grotto in the cliff and were hit by a few small rocks falling off the cliff. I have never run faster in my life. Dad and I walked over to another beach on some very slippery paths that were right next to the cliff. Once we were across we wandered down the beach. We ran around a small outcrop of the cliff to another slightly larger beach. We wandered over by the cliffs and saw that in the 6 hours since the tide had come in a good chunk of the cliff had fallen off an made a few small impact craters. Not wanting to test our luck we decided to leave. On the way home, the main stop was a store where we bought a small pizza to cook for dinner. We went home and got to sleep so we could catch the ferry tomorrow.  In the morning we went to the ferry terminal and got tickets to take the hydrofoil back to Serande. We had a great few days in Corfu and hope to come back in the summer!