Cardiff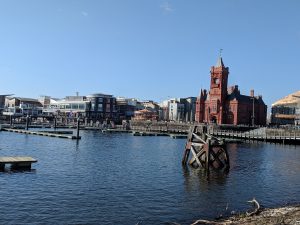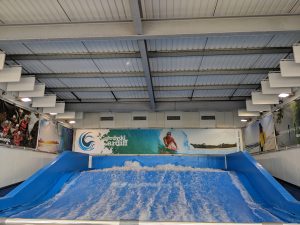 Yet again we decided to go to Cardiff! On our first day there we got up early to go take a long walk. We walked from our apartment up by Cardiff Castle down past the international pool, over the breakwater, up to the millennium building, and back to our apartment. A distance of just short of 9 miles. Our first stop was the international pool. We wanted to stop to see what it looked like to know if we wanted to come back and swim the next day. It was huge! The pool took up 3/4 of the building. There is an Olympic sized pool and a lazy river, 5 slides and another huge area for regular fun swimming not in the Olympic pool. We moved along and saw right next door that there was a White water rafting and Surfing center with a large wave maker and a whole man-made rafting course. We continued walking and found that we were on a small peninsula that we could not get anywhere on. No matter as we were able to cross a small bridge on a lock that went to the other side. From here we wandered on and found the main locks. These are used to regulate how much water is coming in and out of the bay. If a large tide comes in the city can be protected by the locks. Moving on we found a small exercise park and a boat that was not going anywhere anytime soon. We found an ice cream truck as we needed something to keep us going until lunch. We had Vanilla ice cream with a "flake" which is pretty much chocolate that tastes like it has way too much powdered sugar on it. Next, we went to where the Welsh Parliament used to be. We did not stay for long because we were very hungry. For lunch, we went to Wagamama which is a Japanese restaurant. I had the steak noodles and they were VERY spicy but also very good. Then we walked home because we were getting tired from such a long walk.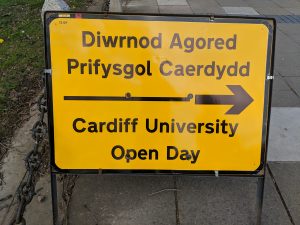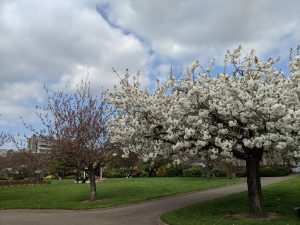 The next day we went to the park. Cardiff has more green spaces than most other cities in Europe. They have one park that runs almost the whole length of the city. Mom and Dad went to get new jeans for Dad and meanwhile I stayed at the park and played Lacrosse. The parks in Cardiff are very popular with the students as they are a great place to study and hang out with their friends. We went back to the apartment and worked for a few hours and then we went to the International pool for the evening. As soon as we got there we found that we had abandoned both Dad and my bathing suits in Serande because they had holes in them. As Mom did not want to swim and dad did not have a suit, I threw on my shorts and decided to swim by myself. The pool was very fun and my favorite part was the lazy river.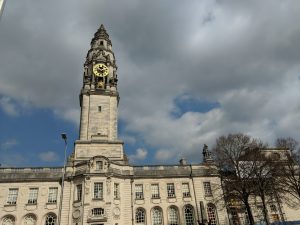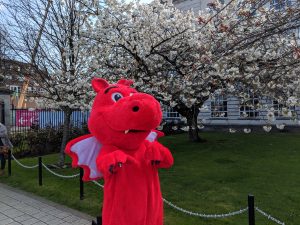 The next morning we woke up early to get ready for the Cardiff University open day. We walked through the park to the university. Upon arrival, I was amazed by how old many of the university buildings were. Most of the buildings are as old or even older than our country. We did a tour of the campus and also saw a talk about why Cardiff is a good school and why the city is good too. Cardiff as a city has more castles in and around the city than any other city in the world. There are 26 of them! One huge park runs in the center of most of the city. We next went to a talk about learning Welsh at Cardiff that came with Tea and Welsh cakes! I really enjoyed this talk because I want to learn to speak Welsh as many people in Wales do not even know how to. At this point, we had some free time to go get lunch and we had some very good grilled cheese with an assortment of toppings. Next, we were going to go to some talks about more specialized careers but I felt that as I am not going there yet this would not be too beneficial to me. Instead, we went to see the dorms and the sports training center. The sports center was most important to me as I really want to play lacrosse for Cardiff. But we also saw the dorms which I liked but am hoping to find something more to my self. We decided to call it a day at this point and go to our next destination by car! Cardiff has been a great city and I know I will come back soon.