Lego House
We flew from Cannes, France to Copenhagen, Denmark.
Upon arriving there we drove to Billund which is where Lego is based. I have always been a huge Lego fan and have always wanted to go there so this seemed like a good time to do so. We didn't want to go to Legoland as we have already been to the one in California, so instead, we went to the Lego House. It is not made of Legos (though James May did do that once) but is all about them.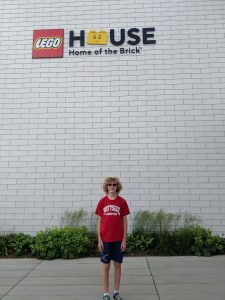 In the very center, there is a huge tree made of Legos that is about 45 feet tall. At the bottom, there are wooden toys remade in Lego that represent the foundations of the company and at the top, there is a construction site where more tree is being built. One of the wooden toys remade in lego is a duck.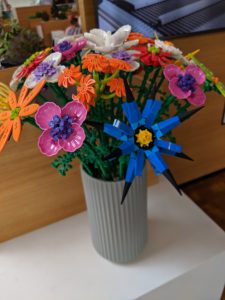 There is a story behind the duck. Back when they still made wooden toys, the founder painted each duck 3 times as he wanted it to be perfect for the children. Then one day his son came home from making the ducks and said he had saved the company money by painting the ducks 2 times instead of three. The father demanded he go and get the ducks from the train station and repaint them one more time or he would be out of the company. He managed to and was still employed in the morning but now Lego uses the story to show how they want to always go above and beyond.
We continued wandering around the building and soon we found the stop motion studio. We got to make our own stop motion movie out of Lego bricks. Our movie had a few cars driving around, a swimmer, a few people who came out of their houses, and also two minifigs that came from the sides of the screen where they had a short battle. I really liked doing the stop motion and want to do more soon.
We also got to play the city game where you built small shops houses and parks on small plates and then took them over to the game board to put them where they were needed to make people happy. It was fun and we spent a lot of time there. We also did a game where you built a car that was either the fastest or could navigate a jump canyon and hoop without manual guidance. Both were really fun but I was better at the Challange course than the speed course.
After this, we went to get lunch as we had already spent a few hours at the Lego house and were getting very hungry. We went and got pizza and after no time we were back and exploring the large models of cities and mountain ranges. We also got to see some massive dinosaurs (one of which was made of the Lego Bagger 288 set). And lastly, we decided to make some flowers. Dad made a flower and I made a vase for it. As we were leaving we were given 6 freshly made lego bricks and a card with our own special combination of them. I loved everything about the Lego House and would absolutely recommend it to anyone in Denmark. I hope I can go again soon.