5 Terre, Italy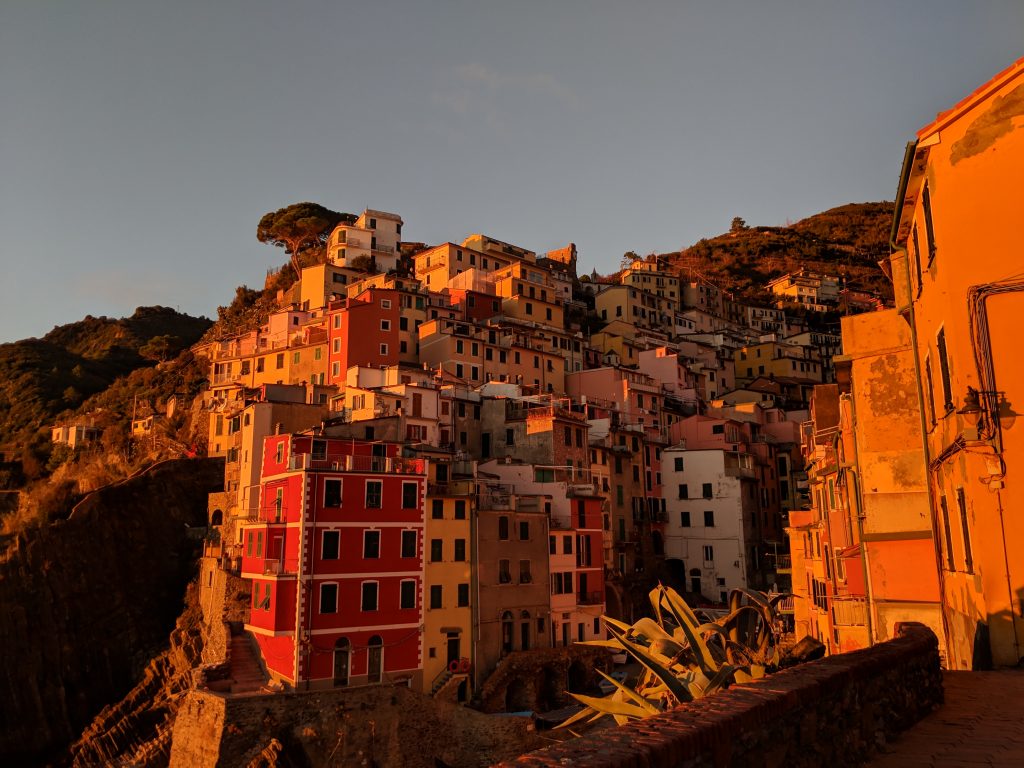 We arrived in the  5 Terre area. This is a group of 5 different fishing villages that became hugely popular tourist places to there great beaches and seafood. It is also one of the largest national parks in all of Italy. Our poor car was forced to go up what seems like one of the steepest hills known to man. We arrived at our house which required us to go up and down stairs to get to it. We had pasta with cheese sauce for dinner and went to bed.
Today we stayed at home because Dad was not feeling good. Mom and I went for a short walk and looked down over the town and the valley. Then in the afternoon, we went to Riomaggiore as Dad was feeling better. It was only about 5 miles away but we had to drive 10 miles to get there. When we arrived we got a late lunch of a hot dog thing and a ham sandwich. We wandered down to the beach for the sunset (about 4:30). The sunset was amazing but it was getting cold so we got in the car and drove home. On our way home Dad saw a wild boar but mom and I didn't see it.
Today we decided to drive about half an hour to the farthest of the villages. We explored around there for a while. I was amazed at how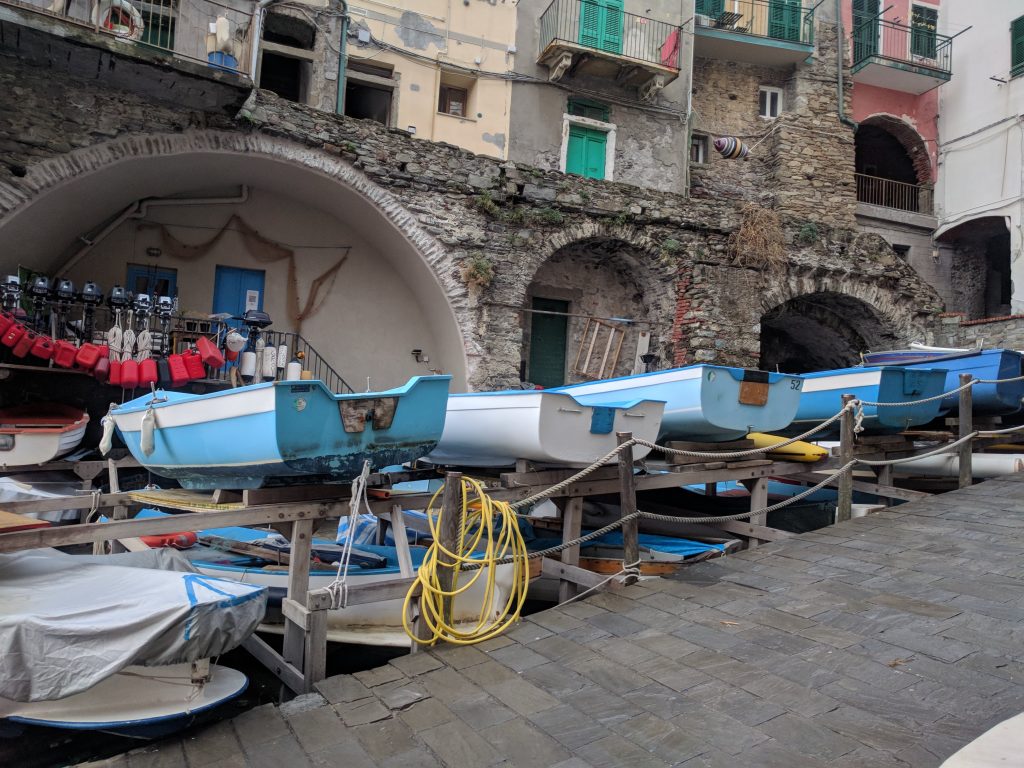 colorful all of the houses are. Some of which I don't have any idea how they paint because the houses are next to narrow alleyways or on a sheer cliff.  Next, we hopped on board of the sea train that goes between the villages of 5 Terra We rode it to the end of the villages. We were hoping it would be along the coast because we wanted to see the views but most parts of the cliff are too steep for a train so it goes through tunnels.
Today we decided to go for a hike. We arrived in Monterosso. We started hiking by the beach but soon had to go up towards the cliffs. As we walked we saw the many great sights that the train can not see. We saw the stunning sea got lost in a vineyard and also the rail carts.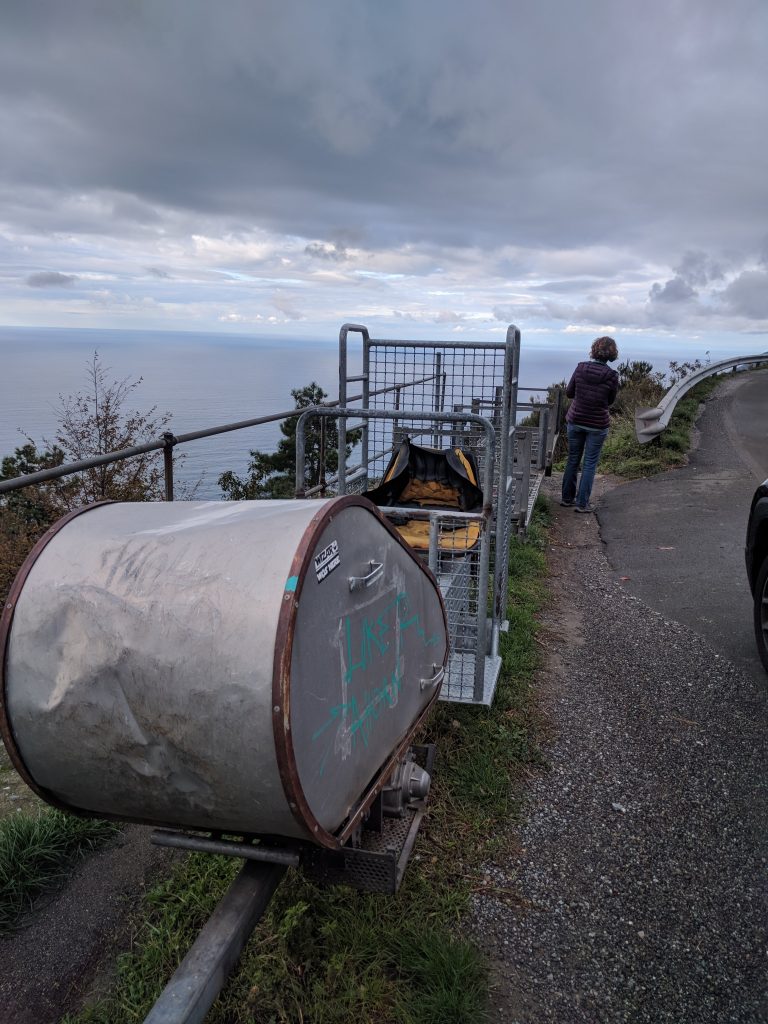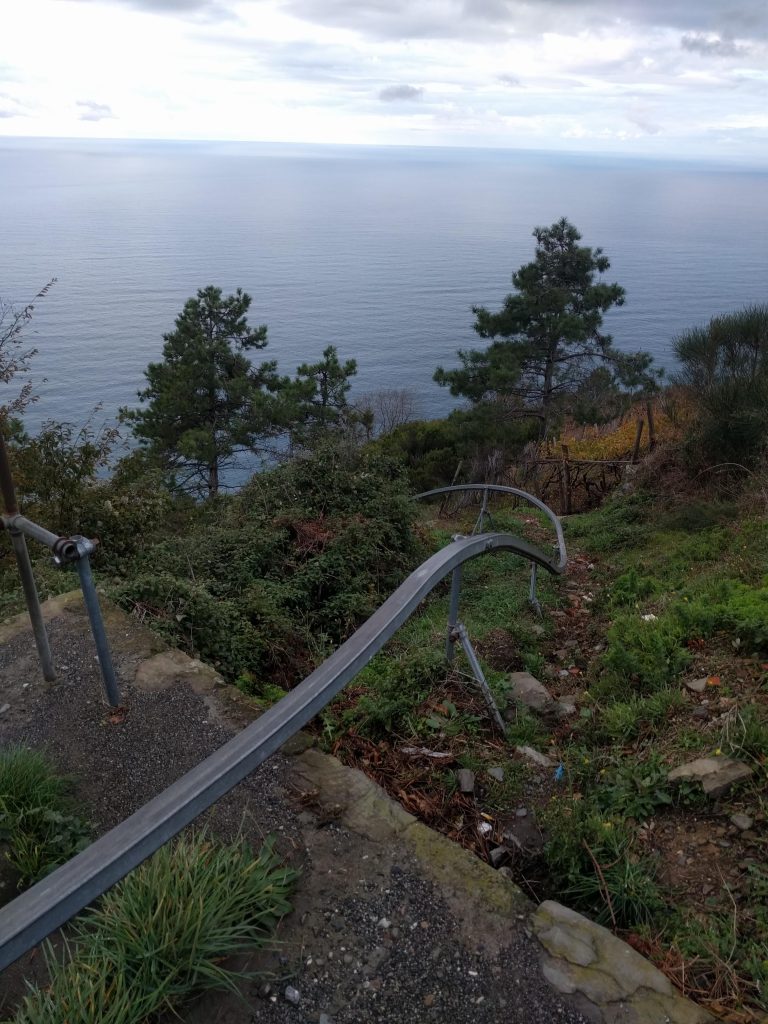 Wait, let me  explain that one. The hills are so steep that many people put terraced vineyards. However, this is not fun to fo up with furniture or grocery so they have built miniature cog railways with lawnmower engines for power to go up and down. they are usually made of a seat and two to three cargo racks. The go up insanely steep slopes.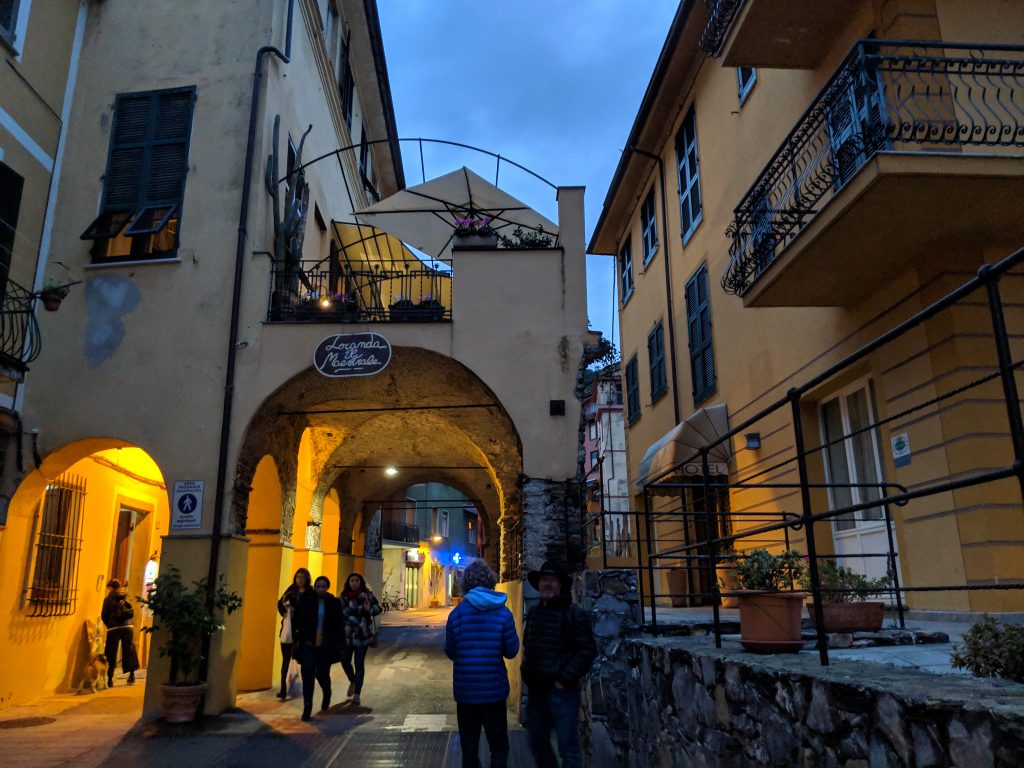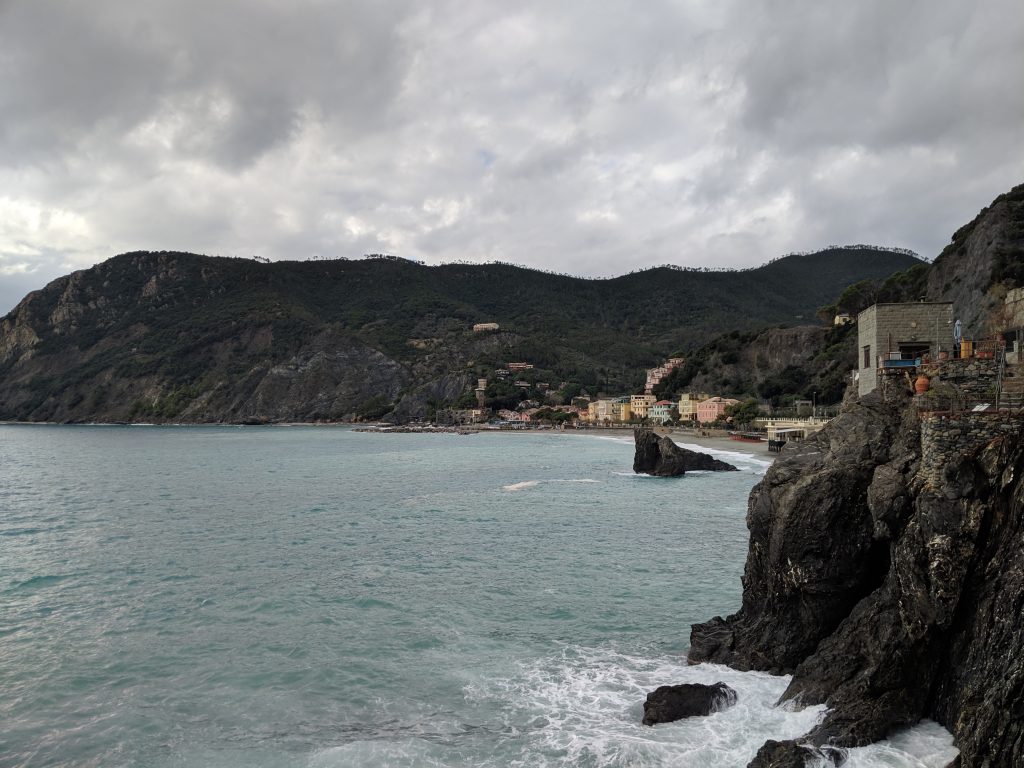 We kept walking and finally reached the town after what felt like hours. We went to a place where waves were splashing really high. A man was standing under it and while he did not get wet I told Mom he was tempting fate. A few minutes later Dadd said "Hey Mindy go stand by that rock. She did and got soaked all down the back. but we got a good picture of the water above. It was an I told you so moment.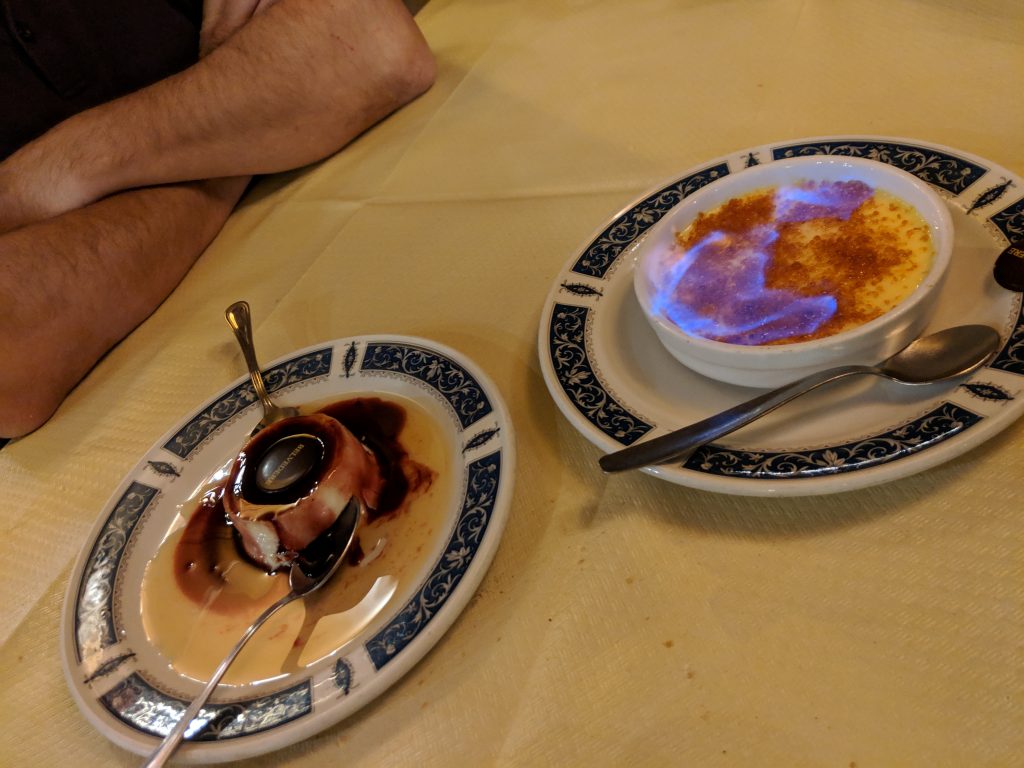 We took the train back and got Thanksgiving dinner. I had a steak, Dad had shrimp the size of lobsters, and Mom had calamari and shrimp. We went home and dreamed of turkey.
Today we packed up and left the 5 Terre area for Saturni in Tuscany. We greatly enjoyed our stay and hope that can come back in the spring.