Merry Christmas Everybody!
Merry Christmas.
Thank you for reading my blog throughout our travels so far. As a way to say thank you I would like to share this recipe with you that we found quite enjoyable.
Oven Baked Chestnuts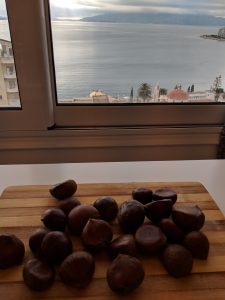 Start by getting chestnuts from the produce section of the store. Here they are really fresh and cheap. Place the flat side down and cut a shallow X in the rounded side. Put on a baking sheet and bake in the oven at 425 degrees for about 20 minutes or until the shell start to peel away from the meat inside. Then let them cool for a few minutes, peel the shell off and enjoy!
Watch for more blog posts coming very soon. I have to tell you how we got to ALBANIA for Christmas!