Well, There is Something for the Resume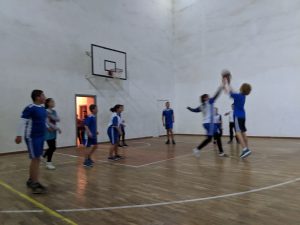 I have accidentally been recruited to play on the Serande 8th-grade boy's basketball team. On Saturday I went to their practice because it was at the same time the School Director said I could use a wall of the gym for lacrosse practice. The boys on the team were very interested in my lacrosse stick and I soon was invited to warm up with the team. The next thing I knew, I was doing basketball practice because they wanted me to join them for it. We had a lot of fun and I did ok.
Then on Sunday, I went back to the gym for my second lacrosse time. Yet again, I ended up playing basketball and today we did a scrimmage. It was really fun and I even did a little better than last time. At the end of the day, a few of them said to me "Come here on Friday at 7 for the game". Unknowingly I had been recruited to play for the team! On Friday I will take to the field (Court, Arena?) to play my first ever game of basketball and I don't even know the rules. Wish me luck!
Fast forward to Friday! I arrived at my basketball game excited. A few minutes later I started to get worried as the only people other than my team that I was seeing were much older and I was afraid I was going to be target practice. Then out of nowhere a group of girls showed up. We were going to play the girls team because they are the only other team in town. We started the game and I really enjoyed playing. We didn't rotate much so when I was in I played for a long time. The score was kept on a chalkboard and I had no idea what they were all saying because they were saying it in Albanian. In the end, we tied 39 to 39. I had two baskets. By far the craziest play of the game was a one hand over the head that spun around the rim before going in.
As we were leaving the team invited me to go with them on an overnight road trip to another part of Albania for a game. I talked to my parents and we decided that traveling without them, in a foreign country, where I did not speak the language was not a good idea so I politely declined. But I will see them again for practice soon!
Check out my basket. Mom intended to take a photo but took video and it was my first basket!