Our Exciting Albanian Weekend
This weekend was one of the best so far in Albania. It started on Saturday when we decided to go to Butrint which is 20 minutes south by bus. Butrint is the location of the ruins of the town of Butrint which was a town in the pre-roman era. They had a theatre and a castle along with large outer walls and a port. As time went on the city grew and developed into a large military canter. It was after all a crucial step to control the island of Corfu. Most times whoever owned Butrint owned Corfu. After a time a military fort was built in the center of the river on a small island to help provide extra defense against invaders to the area. From the fort, you had to cross over one of three bridges to get to the town. Over time the city grew more and more. We saw the tower that was built a few centuries later to help Venice protect from the Ottomans and the castle the Ottomans built to help defend against the Venetians after they conquered it. It was taken over so many times that the city was already in ruins and at some point, someone decided it might not be the best spot to defend from. The city was abandoned and now is a historical park for tourists.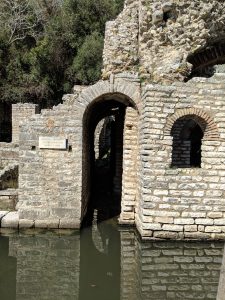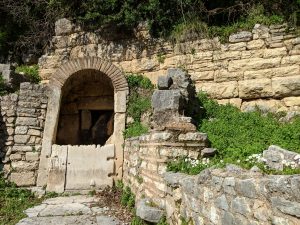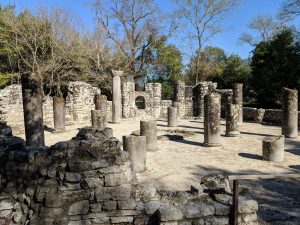 On Sunday, our friend Johan has a travel agency business and he discovered the restaurant a few years ago. Now he takes visitors there every week during busy season. This weekend he took a group of expats with him There is no menu, the family serves you whatever they have that day. It was all traditional Albanian and Greek foods. It was a real, local restaurant/ family home and they served us a  10-course lunch. No that wasn't a mis-spelling it was 10 courses. We had goat meat, bread, baked cheese, coleslaw-like salad,  potatoes, a rice quiche thing and more. We ate so much and for dessert, we had apples and bananas with fresh honey. It was delicious and with full bellies, we drove back to Sarande to our apartment.