Poland and Tropical Islands
So I messed up the order of the blogs so this one goes in between Berlin and Prague. Oh well. 🙂
From Berlin, we drove about an hour and a half almost to the border with Poland. Our house was small but just what we needed for a few nights.
The next day we decided to visit Poland. We drove to the border and went over for a quick lunch. My favorite part of lunch was the potatoes. They had really good seasoning and were amazing. They were a unique flavor and I am not sure we can recreate them when we get home but I want to try. There was a polish man who helped me buy a hot chocolate like drink that was super thick and chocolaty. We went back to the German side of the border and drove to the Devil's Bridge. It is an old bridge suspended between 2 basalt towers like giants causeway. It is a few hundred years old and while you sadly can't walk on it, it is still really cool. While we were there they had surrounded a few hundred feet of it and the pond it is over with fencing so we couldn't take perfect pictures or get close. Thank you to Atlas Obscura for another awesome site we never would have found otherwise!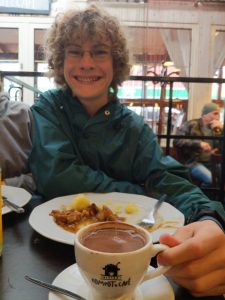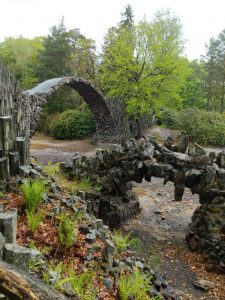 The next morning we drove about 15 minutes to the Tropical Islands Resort. I saw a documentary about this pace a couple of years ago and had asked if we could visit on this trip. This was the main reason we came to this part of Germany. As nowhere in Germany is very "tropical" it is indoors… Inside a Zeppelin construction hanger. In 1992 the company Cargolifter bought an old airfield (built in 1938) and began work on a hanger to build zeppelins in. The new hanger was 1180 feet long, 720 feet wide and 348 feet high. Once they had built this huge hanger they ran out of money and sold it to a Malaysian company who wanted to turn it into a water park. This company started renovating it and turned it from an empty factory into the modern waterpark we know today. People are now able to stay inside a tent or room inside the dome, which is also the largest free-standing hall in the entire world. This is not the only record, however. It is also home to the worlds largest indoor rainforest and is the worlds largest indoor waterpark. It is home to flamingos, turtles, koi that are bigger than some of the small children that visit (luckily no kids have been eaten… yet) parrots and over 30,000 trees. The hanger has had a 20,000 sq meter window to allow sunlight and UV rays in to let you tan and so the plants can survive. At first, they did not have the window but then a large part of the rain forest died so they put it in. All the buildings are in a southeast Asia style including temples from the Thailand rainforests. There is also an outdoor area with pools but the outdoor area is best known for having the longest manmade white water river in Germany that you ride down like a slide. It was super fun and every time we did it we got drenched. The slides were fun especially when we went out early in the morning as it was just us so we could go down without ever having to wait in line. They had a short racing slide that 2 people could go down. Sometimes if you got going really fast you would go airborne at the bottom and smash into the pool. The best slide though was the bright yellow one. On it, you went in loops a ton. When you got to the bottom you would be super dizzy from all the spinning. The other cool part about Tropical Islands is the beach. They have a 200-meter long sand beach that leads into the main pool. This is along the side with the huge windows so it is always really warm there. The food was good and for dinner, we had an Asian buffet. There was rice and some amazing dumplings that I ate 4 boxes of. In the end we stayed at Tropical islands for almost 2 full days and only left when we had to get to Berlin for the bus to Prague.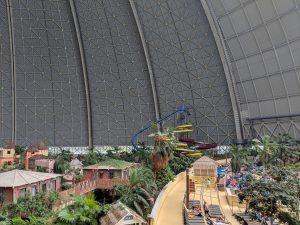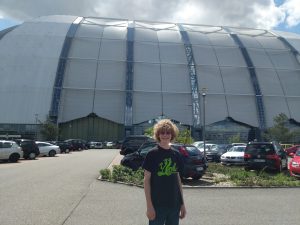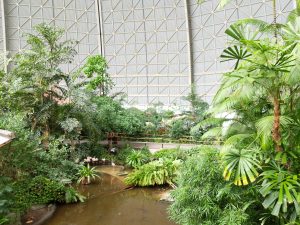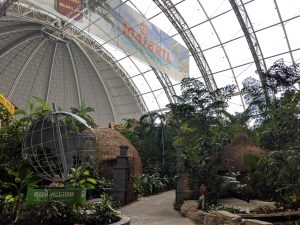 Mark another country off the list (Poland) and another item off my Bucket List, Tropical Islands Water Park!