Switzerland
We dove down one of the main streets of Vaduz and were soon out of the country. It's a weird feeling. Eating all of your meals in different countries. We went home and slept whit dreams of Liechtenstein in our head.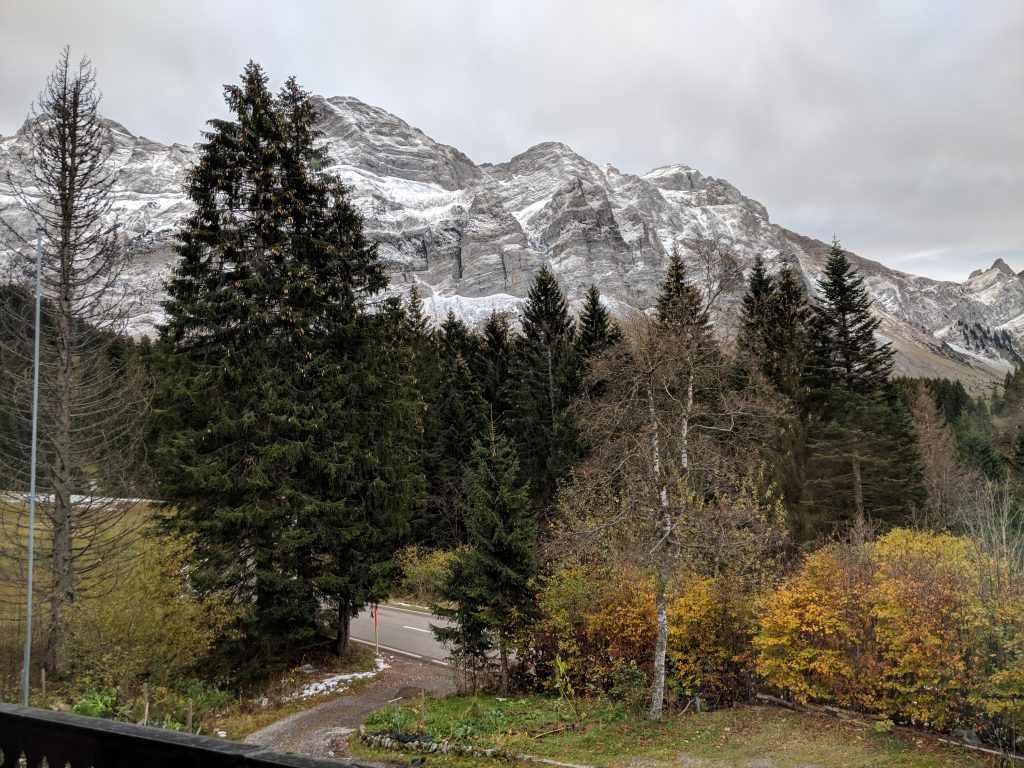 We are staying in a cabin high in the Swiss Alps. The scenery out our windows is amazing. I was outside playing lacrosse in the field and a Swiss Armoured Personelle Carrier drove by and the soldiers waved at me. It was crazy!
Today Dad had a work meeting so Mom and I went with him to the college in Zurich. Mom and I walked around the campus for the few hours. We started by going to get coffee and tea along with a very dry cinnamon roll. Then as we started to walk we were getting very cold so we went and sat in the physics building. We read our books as we were waiting for Dad. We finally got warm and headed to the car to wait for dad. a little while later we left, all happy to be in the warm car.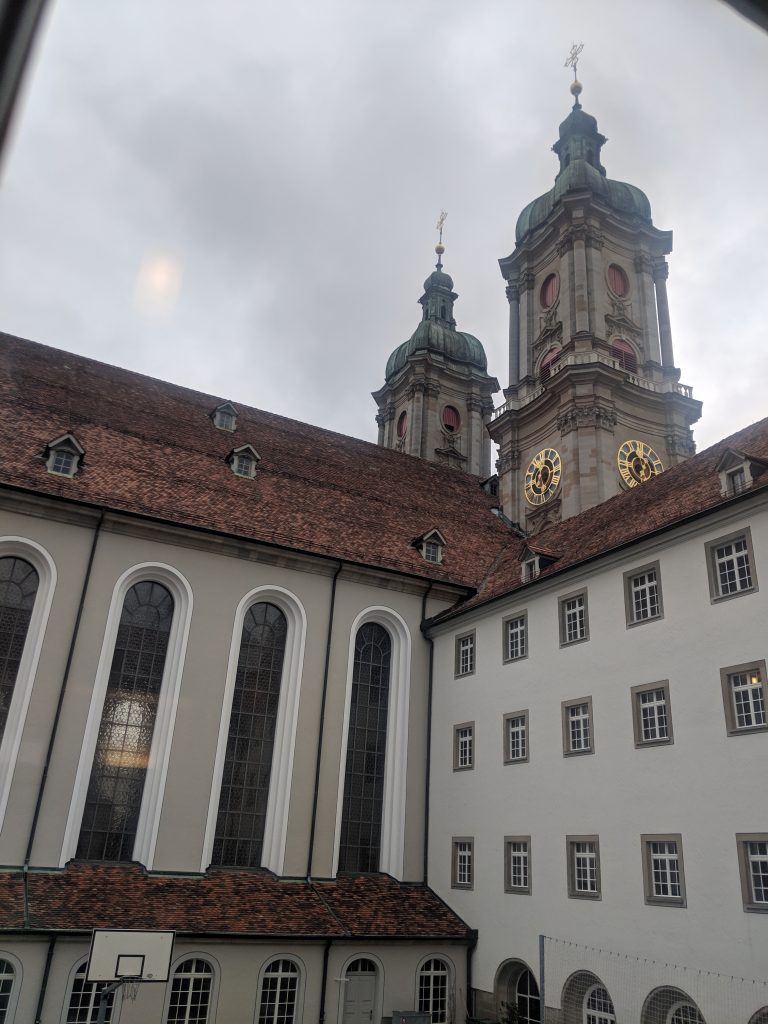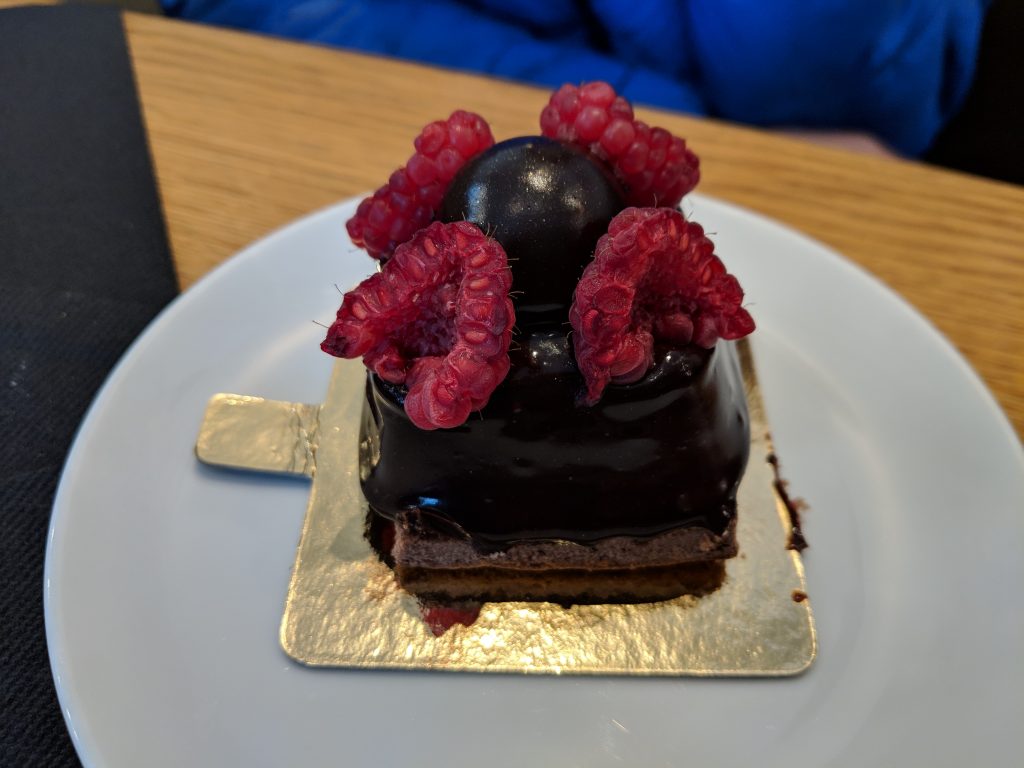 The next morning we went to is an old abbey called The Abbey of St Gall in the town of St. Gallen. When I say old I mean built in 719 A.D. They have a library in the old abbey that is now world famous. The abbey chapel burned down at one point almost taking the library with it but luckily the blaze was stopped. The floor and walls are made of intricately designed wood with scenes and patterns on them. They even have a mummy. It was given to them in the 1800's? I say that because I am not sure of the date. They took it out of its wrappings and everyone who was present was given a piece of the linen wrappings. Now the uncovered body is left in the viewing case in the library. We then left the library and went to the chapel. It is one of the largest churches I have ever seen. It could fit thousands of people in it. The organ is huge and the ceiling is beautiful. It is hard to describe how amazing it was but I suggest you look it up to really see. Then we went to a chocolate shop across the street and I had a chocolate mouse covered in a chocolate shell with a truffle and raspberries on top. It was the best chocolate ever!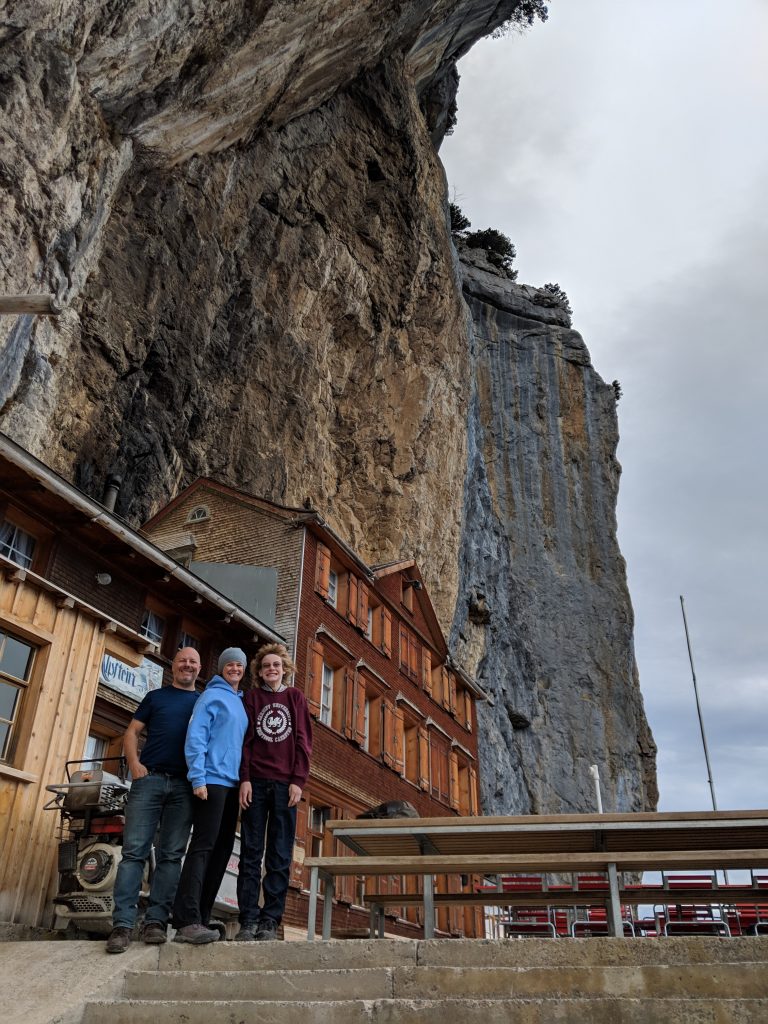 Today we decided to do a hike to a restaurant on a mountainside at the base of a cliff. We were going to take the gondola up and walk down. We got to the parking lot and found that due to high winds the gondola was closed. But we had come the second to last day it was ever going to be open and we couldn't go the next day. So we walked and walked and walked. We went through an amazing forest before coming out into a large meadow. We walked a little farther and stopped for a snack. Soon we were walking again. we kept walking for a little while and came to a fence that was being built. and I found a pair of glasses on the ground so we set them on a pole. We finally made it to the steepest part and walked right next to the cliff. We came around a corner and saw the restaurant. We had made it after about three hours and 700 meters of height gain. We went inside and had some great brats and rosti! We met a couple from New York, the Leskos and you can read her blog too.  We finally decided to go down and as we were warming ourselves dad decided to go up the path a little more to the cliff church. Mom and I were cold so we waited by the fire. He came back and told us he had made it but it was very windy. I stepped outside and was hit by hurricane f0rce winds. Carefully we started down the cliff. soon we were covered by the cliff wall and we hiked the rest of the way down. It was a fun trip and I wish we could do it again.