The Week Day Trip To Permet
This week we took a trip to Permet. Permet is a small town about 2 hours by car from Serande. There is a warm spring there that is very nice… in the off-season. In the busy season which is late spring and the summer months, it is apparently crazy just like Serande. We are here in the off- season and it is very nice. The only other people were a family from France who were great to talk too. The pools are next to a stone bridge from the renaissance time period. They are natural springs that humans have built walls around to keep water in and make pools. It is not hot water but it is like a swimming pool. we enjoyed the water and the ground in the pool. It is the natural rocks of the area but the spring water has enough pressure to shoot the rocks up and make little underwater rock fountains. The rocks fall back into the fountain's base and are shot up again. the rocks hit each other as they are launched up and it makes them very smooth. They are like rocks that have been put in a rock polisher but they are natural. there are also pits of small stones that are on top of weak water jets so you are walking along and you sink into the stones. sometimes you sink 2 or 3 feet in! the pits are nice because they are great for rubbing dead skin off without having to work. We really enjoyed the pools and stayed there until sunset.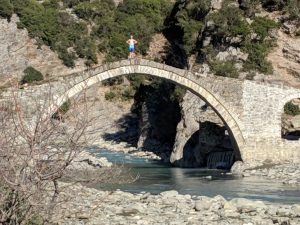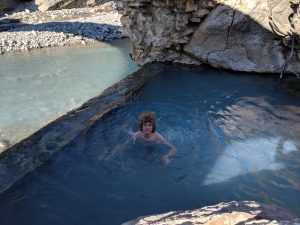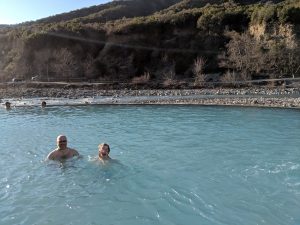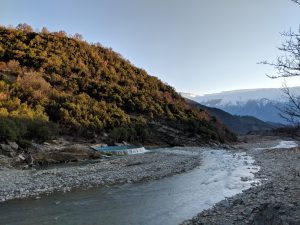 After the pools, we went back to Permet for the night. We stayed in the Funky Guest House (which is its real name) They gave us a candied fruit of some sort covered in honey. We stayed the night there and in the morning we left for Serande but not after we had a crepe from a new crepe and waffle shop that had open 2 days before! It was really good and we hope to go back soon. On our way home from Permet we stopped at Gjyrocaster. The town has an amazing castle on a hill about 100 feet above the main town. We loved being the only people in the entire town. After we saw the castle with its artillery and other cool castley bits we went down the mountain to find some food. We stopped at a traditional small restaurant and got the only table on the tiny 5-foot long balcony. We order rice balls, meatballs, baked cheese, and breaded cheese with honey and sesame seeds. We were eating when all of a sudden we say the same French family again! We also saw an Albanian bar fight across the street! We heard glass break (like a lot of it) and looked down to see a guy pinned against the bar window with a broken wine glass in his hand. After a lot of yelling in Albanian he handed over is broken glass, grabbed his grocery bags, and stormed out yelling. we continued on to the Blue Eye which is a spring that goes down at least 150 feet. divers know it goes deeper but no one has ever been down farther. We looked at it for a few admiring the pretty blue color and continued on back to Serande.